Bridge Over Troubled Water
Friday, 10th June 2005 by Alex Turnbull
Okay, okay... It's a weak link but I couldn't resist. Troubled water? No? Never mind.
Check out this great bridge over a frozen river in Howland, Maine. Actually, Howland appears to be just North of a place which seems familiar somehow...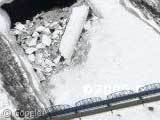 Also, we seem to be a little short on submissions for Maine. If you've got any good sights, please submit them so we can improve on the only two we've posted so far, thanks 🙂
Thanks to Ben Singleton.