Target Stores
Sunday, 14th August 2005 by James Turnbull
One of the most recognized corporate symbols in the United States is that of the Target corporation, who have 1,351 stores in 47 of the 50 states.
Of those 1,351 stores we've found three which have a giant Target painted on the roof, all of which are unsurprisingly located near major international airports (not air force bases, because that would be silly ;-)).
The first target store is in Rosemont (with the Allstate Arena just to the south) and lies in the flight paths to O'Hare International Airport.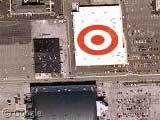 Our second target is in Queens, New York City and is just east of La Guardia Airport.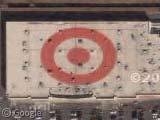 Another store in Everett, a suburb of Boston, just west of Logan International Airport.
And lastly we zip across to Australia for this target, which I assumed was advertising for the benefit of those landing at Brisbane Airport but I was wrong, as noted in the comments by Neil…
The Target store is used as a reporting point for the Archerfiled aerodrome, which is to the West. The Target represents the entry point for aircraft entering the Archerfiled control zone from the East, and has nothing to do with the Brisbane Airport, which is to the North.
Although very similar looking the Target chain of Australia is actually a completely separate company to the U.S. version.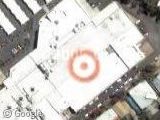 Thanks to the target spotting talent of Dan Hartung, Steve, El Warren, Mark, Kári Tulinius, Dann, Jason, Derek DYsart, dan_the_stud, Dave D, Ryan Toyota, Brian, Keith T, Erik Nygren, Infinity, Lee Bennett, Louis Koziarz, Eric Doherty, Carol & rascalking.