Opryland Hotel
Monday, 14th November 2005 by Alex Turnbull
This is the Opryland Hotel in Nashville, Tennessee. Now I think I've got this right when I say that the Opryland is the third largest non-casino hotel in the world. Regardless, it's enormous, with 5 restaurants, 6 eateries, 14 retail stores and 2,881 guest rooms built to accomodate visitors to the world famous Grand Ole Opry, a Saturday night country music radio show, broadcast from the 4,400-seat Grand Ole Opry House which is located just next door.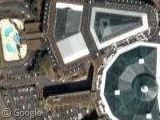 In our thumbnail you can see the absolutely enormous, climate-controlled glass atria which cover 9 acres of lush indoor gardens, a rotating restaurant, a 44-foot waterfall, and a 400 metre long river... complete with tour boats. The hotel also has its own golf course, and used to have a themepark too, which was closed in 1997 to make way for a 1.2 million square foot shopping mall, Opry Mills. Take note that it costs $10 to park your car at the hotel, but parking at Opry Mills is free...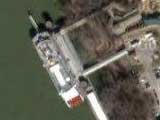 Just to the west of the shopping mall you can also see the General Jackson Showboat, a paddle boat which takes tours of the area. You can see the bright red paddles quite clearly, but feel free to compare with this photo if you're unconvinced 🙂
Finally, for information junkies, here's some links. The official Gaylord Opryland site, the Wikipedia page about the hotel, the Grand Ole Opry Wikipedia page, a tour of the interior of the Hotel, and an article on the DuPont site about the construction of the atria.
Thanks to David Hanak, Danielle, Kevin and Brandon.