Live Local (again) and some helicopters
Friday, 26th May 2006 by James Turnbull
The other day, Windows Live Local added high-resolution aerials of Edinburgh, and Alex and I promptly wasted hours and hours finding everything there was to see in our home city and arguing about the exact date the photos were taken.
I know we're called Google Sightseeing, but I can't resist posting Edinburgh Live Local sites, such as the Museum of Scotland, the flumes at the Commonwealth Swimming Pool, where I was married last year, where I studied at University and the Scott Monument. I could fill a whole website with these!
Anyway, one of the coolest things I found was this helicopter parked in the Meadows (a large park just beside Edinburgh University) and it reminded me of a Google Earth story which I'd meant to run a few weeks ago...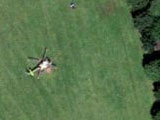 On December 1st, 2005 the Spanish opposition leader Mariano Rajoy hopped on a Police Helicopter which departed from a bullring in Mostoles, Spain and later crashed just outside the stadium, luckily no-one was badly injured.
Google Earth users spotted this picture of a helicopter in the bullring, and following some investigation, deduced that this satellite photo is in fact a picture of the helicopter that crashed on that very day, presumably only a few hours before departure.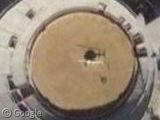 Thanks: Simone & Amio Cajander