Whale Spotting in Google Earth
Thursday, 22nd March 2007 by James Turnbull
There are about 80 known whale species around the globe, the largest of which is of course the Blue Whale, which can measure up to a massive 30m long.
Such a giant beast should easily be visible on the aerial and satellite photographs of Google Earth, it's just a matter of finding them...
To start with, there's definitely a blue whale in this Japanese swimming pool, but I don't think that counts.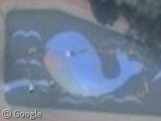 The Route 66 landmark Blue Whale slide is so famous it even appeared in Sega's King of Route 66 video game. More info.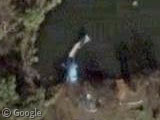 Outside of UC Santa Cruz's Long Marine Laboratory there's an 85-foot long Blue Whale skeleton. The female whale was washed ashore of Pescadero Beach in 1979, after dying of unknown causes.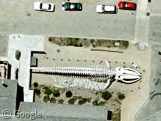 We've still not found any live whales though! Off the coast of Santa Barbara there's a 10m long grey blob that could resemble a whale, or more likely a shark. Either way it would have to be very close to the surface to be seen so easily. I'm not convinced.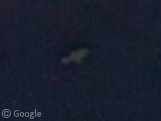 'Reverence' is a sculpture by Jim Sardonis, which depicts two whales seemingly diving into the grass. The tails are each 12-13 foot tall and made of granite. More info.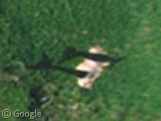 Back in Japan, and Ueno Park has more than tails - there's a life size Blue Whale diving into the ground. More info.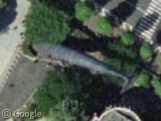 And finally, to Argentina, where there could just be real whales.
According to whale expert wildslide these are southern right whales who breed in this area during the months of May and October. Success!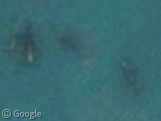 Previously on Google Sightseeing: Whales! and Beached Whale
Thanks: The many people who thought they saw a whale, including: Jonathan_Tronson, FrequentFlyer, danescombe, bagabnoosh, kjfitz, Ralph Mettier, Nick, Jim Morton, Andrew, Rking, Yoshino, Barb, Caraurta, danescombe, Todd Pearson, Andrea from Italy, Nichole, James, A30 & John Hartnup