Half Naked Sunbathing Girls on Google Street View
Thursday, 31st May 2007 by Alex Turnbull
Please note that some or all of the objects mentioned in this post are no longer visible on Google Earth or Google Maps.
I wonder how these girls feel about being half naked for all the world to see on Google Street View?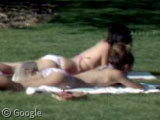 Does anyone know who they are?
Update: I've just realised that for most of these Street View sights, you can move down the street a little and change your perspective on things.