Three Sisters, Pittsburgh
Thursday, 3rd July 2008 by Alex Turnbull
No, you're not seeing triple - these are Pittsburgh's Three Sisters, a trio of nearly identical suspension bridges erected side by side over the Allegheny River.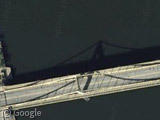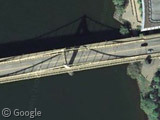 Rachel Carson (Ninth Street Bridge)
All three were built between 1924 and 1928 by the aptly-named American Bridge Company, and they are the only trio of nearly identical bridges, as well as the first self-anchored suspension span bridges in the United States.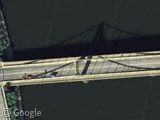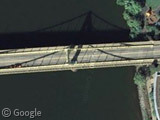 Andy Warhol (Seventh Street Bridge)
The 9th and 7th street bridges are named for Pittsburgh natives Rachel Carson and Andy Warhol, whilst the 6th is named for the baseball player Roberto Clemente, who played for the Pittsburgh Pirates, whose home field is the nearby PNC Park baseball stadium.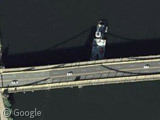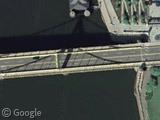 Roberto Clemente (Sixth Street Bridge)
Thanks to Google's Street View feature, as well as being able to see what these bridges look like when you're on them, we can also see what it's like to cross the 6th street bridge and see the other two.
Thanks to Nitehawk. Read more about the Three Sisters at Wikipedia.
See our previous posts Double Bridge Shadow, Double Drawbridge and Three Sisters, Australia.