Concrete Art
Thursday, 30th October 2008 by John Andresen
Here in Marfa, TX, we can see the patterns of 15 Untitled Works in Concrete, a massive concrete installation at the Chinati Foundation, a contemporary art museum conceived and founded by the artist responsible - Donald Judd.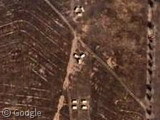 Judd was a minimalist sculptor who purchased this 1.4 km² of desert in 1979 as a non-profit art foundation dedicated to Judd and his contemporaries, like the previously featured (1, 2, 3) GSS favourite Claes Oldenburg.
15 Untitled Works in Concrete actually consists of sixty five-metre-long concrete boxes, which are divided into fifteen differently arranged groups. The entire piece stretches nearly a kilometre across the desert, which might explain why it took Judd four years to complete!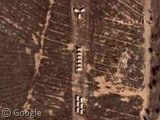 The Chinati Foundation website has some good photos images of the work from the ground.
Thanks to Nathaniel, who has actually eaten lunch inside one of these pieces of art!