Top 8 Street View Crimes
Friday, 24th October 2008 by James Turnbull
As more and more street-level imagery keeps getting added, it's time for another Friday Street View Roundup - and today's theme is "Crime on Street View"!
8) Indecent Exposure
This woman's dignity has been saved by a bit of face-blurring! Of course her nipples are exposed for all the world to see. Fail!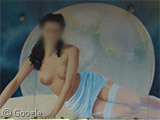 7) Antisocial Behaviour
These pesky kids are setting up a trip-wire between two bollards. The youth of today, eh? If only the Street View camera had captured the moment they tripped a passer-by...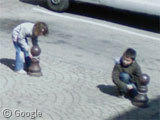 6) Blocking the road
Five of Providence's Police Force have blocked up this road for a bit of a pow-wow. How inconsiderate! Someone should give them a ticket.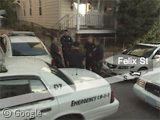 5) Having a camera on the roof of your car
The French authorities obviously deemed the large camera on top of the car to be a suspicious device, and pulled the Google driver over for an investigation.
Move south down Rue de la Garde and you'll experience a thrilling chase scene!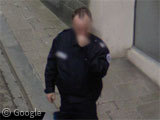 4) Grand Theft Auto
It's one thing to steal a car, but propping that car up on six-foot stilts in your garden is probably unwise.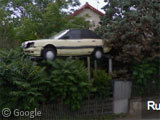 3) Grafitti
This the the work of Invader, whose Space Invader themed artworks can be spotted all over Paris. He's even branched out into Oscar the Grouch artworks1.
2) Taking Hostages?
Of course this could be any crime really, but if it requires an armed policeman hiding behind a car, you can expect whoever's inside did more than steal some sweeties.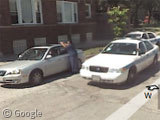 1) Alien Invasion
Presumably there can be no greater crime than invading our planet in little red UFOs?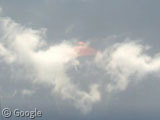 All these Street View sightings were previously posted to our Twitter account - make sure you follow us for instant updates!
---
Long-time users of Apple Macs will of course recognise this as the OS 7 trash-can. ↩︎