World's Largest Cowboy Boots & Hat
Thursday, 29th January 2009 by Ian Brown
There are a few contenders for the World's Largest Cowboy Boots. The best claim perhaps belongs to this pair, which stands 12m tall, outside the North Star Mall in San Antonio, Texas. Tall as they are, they're barely visible from above, but thankfully the Street View car drove right by.
And they make quite the sight when decorated for Christmas!
A solitary boot of almost the same height can be found in Edmonton, Alberta. Also hard to pick out on the satellite image, Live Maps' birds eye view is somewhat better.
It's about 30cm shorter than the pair in San Antonio, but is equally impressive when lit up!
Meanwhile, a 6.5m pair of boots - along with a 13m wide steel cowboy hat - can be found in Oxbow Park in Seattle, Washington ... and on Street View and Live Maps.
These structures were relocated from their original gas station location, where the boots contained the bathrooms!
Another location with a larger-than-life cowboy hat is the mini-replica of the Eiffel Tower in Paris, Texas, barely visible from the nearest Street View image: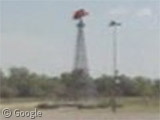 The hat was added in 1998 in an effort to one-up the residents of Paris, Tennessee after several back-and-forth attempts to create the largest replica.
And in Yukon, Oklahoma, a beautifully landscaped boot can be found in Chisholm Trail Park - named for the route of a 19th century cattle drive between Texas and Kansas. The decorative landscaping, including fountains in the two small ponds, is even more visible on Live Maps' birds eye view.
Thanks to 'Koty', Ray, . and Felippo.