Floating Stages
Tuesday, 15th December 2009 by Ian Brown
Cities around the world may be running out of land to build performance spaces, so are looking to their waterfronts for inspiration, resulting in the construction of numerous floating stages. The world's largest example is The Float at Marina Bay in Singapore,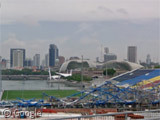 The Float is not yet visible on Google Maps, but with the launch of Street View in Singapore we get a reasonable view of the 120m x 83m stage, configured for a soccer game, and its stands which hold up to 30,000 spectators. The stage has also hosted parades, fireworks and concerts, and will host ceremonies for the 2010 Summer Youth Olympics.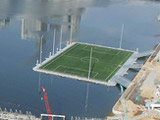 This temporary facility was built after a former national stadium had to be demolished. It will be removed when a new stadium is completed in 2011. The modular construction includes movable joints and pylons fixed to the seabed to protect the stage from movement caused by waves and tides.
In Austria, the imaginatively-named Lake Stage floats on Lake Constance in the city of Bregenz. It was the world's largest floating stage until The Float was created.
With 7,000 seats, this outdoor theatre hosts operatic performances in an annual summer festival. The industrial-themed set in the images above is from the performances of Il Trovatore in 2005. Other extravagant stage designs have included Aida, A Masked Ball and Tosca, a performance of which was featured in the 2008 James Bond film Quantum of Solace, followed by an epic shootout.
The Austrians are apparently fond of floating stages; all the way across to the other side of the country there is a much smaller stage on the river Danube, in the town of Tulln.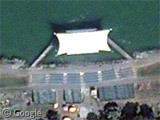 This stage is mainly used for concerts; a good image of it can be found part way down this cyclist's blog.
Let us know if there are floating stages in your part of the world.