Airport Emergency Training Locations
Friday, 27th August 2010 by Ian Brown
As a moderately frequent flyer, I enjoy looking out for fire and emergency training locations at airports. It's fascinating because, for anybody who is even vaguely nervous about flying, the sight of a twisted and charred fuselage is probably the last thing they want to see as their plane accelerates down the runway! Here are a few of the best that I've been able to find on Google Maps.
Glasgow airport in Scotland have their fire training centre conveniently located next to a road, giving us a great look at it from Street View.
From this we can clearly see that, while some airports may use abandoned or decommissioned planes for training, in many cases it is merely a 'plane-shaped object' that can withstand repeatedly being set on fire - though convincing enough to upset a nervous flyer, particularly if it happened to be ablaze as you taxied past! Nearby is a small collection of old and wrecked cars - perhaps used to practice extractions?
At Zurich Airport there is an old DC-8 which looks to be in relatively good shape, so is probably used for evacuation exercises rather than fire training (which likely happens at the smaller object just to the east).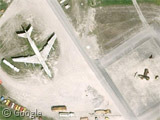 Another 'plane-shaped object', complete with a couple of fire trucks can be found at Leeds-Bradford Airport, a mere 150m from a runway!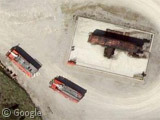 The sprawling airport in Denver has 4 fire stations and the impressively titled Denver International Airport/Denver Fire Department Aircraft Rescue and Firefighting (ARFF) Training Academy, with a full-size plane mockup.
A similar training school can be found at Durham Tees Valley Airport which has a veritable array of old planes and 'plane-shaped objects'.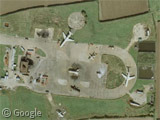 Recently, the trend has been for airports to invest in expensive training systems that can challenge firefighters with a range of different situations. At Schiphol Airport near Amsterdam there is a full-size mock up of a 747, in an area clearly marked Fire Training, which has 20 computer-controlled fire training settings. There is also a very similar system at London's Gatwick Airport.
Manchester Airport has a high-tech system from a different manufacturer, that also resembles the front two-thirds of a 747.
We previously covered some of these "Fat Planes" back in 2006, but let us know what other training locations you can find on Google Maps or Street View. Bonus points if you can find one that is actually on fire!
(I shall now sit quietly and wait to see if spending a couple of hours browsing maps and street views of airport security perimeters has attracted the attention of the government's online monitors).