Stromboli (Volcano Week 5)
Monday, 2nd August 2010 by Ian Brown
Stromboli is a volcanic island off the coast of Sicily, notable for being almost constantly active for at least 20,000 years. While lava flows are occasionally seen, Stromboli is best known for its characteristic volcanic bombs which rain down across the island.
Google has relatively high-resolution imagery of the whole island, including one of three craters belching steam at the 926m high peak of the volcano.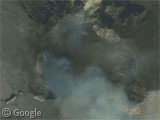 To the north-west of the peak is a large horseshoe-shaped area called the Sciara del Fuoco or Stream of Fire. This section of the island has collapsed through the course of frequent eruptions, and is often the direction of lava flow. In 2002, during the last major eruption, rocks falling into the sea from here caused tsunami waves which damaged many parts of the island.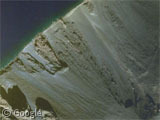 Given the apparent danger, it's perhaps surprising to learn that a population of several hundred people lives on the island, mostly in a small community on the north-east coast - also called Stromboli. There are even a couple of hotels in the village, who cater for thrill-seeking tourists attempting to get a close-up look at the notorious volcano, whose temperamental behaviour means it is often off limits.
There is also a tiny village called Ginostra in the south-western part of the island.
Stromboli has captured the imagination of many involved with the arts1, having appeared in a number of books and films, including 1950's notable Stromboli starring Ingrid Bergman, which was filmed on location.
Wikipedia has information about the volcano, while WikiTravel has details if you want to visit. The SwissEduc site is highly recommended for the huge level of detail including many pictures and videos, and even a volcanic bomb simulator that lets you experiment with different sizes and shapes to see where they would land!