High Line Park, New York
Friday, 19th August 2011 by Noel Ballantyne
Recently opened in New York, the High Line is a unique new public park as it isn't at ground level, but elevated on the former freight railroad spur called the West Side Line. The park covers 2.33 km (1.45 miles) along 10th Avenue from West 30th Street in the North to Gansevoort Street in the South.
The original rail line has a long and fascinating history - built in the 1930s to remove rail traffic from the streets, its use declined and was finally closed in 1980, after which it was slowly dismantled by landowners.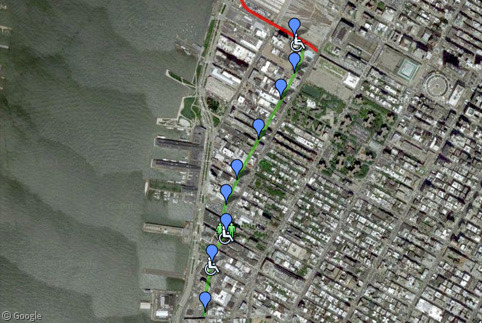 When plans were made to remove the remaining sections of the line in the late 1990s, the "Friends of the High Line" community group was founded by Joshua David and Robert Hammond to preserve what remained, which eventually led to the construction of the park.
At Gansevoort Plaza and Stair, Street View has captured construction work underway, and the map shows the completed park.
Over the years, buildings were built around the High Line, so the park now goes through and sometimes under buildings, like the Standard Hotel and the Chelsea Market
The Tenth Avenue Square must one of the highlights of the whole project. The elevated square crosses 10th Avenue and 17th Street, by cutting into the deck structure, steps and ramps give visitors views of the the intersection below through a full height window.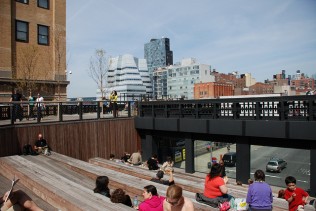 © Copyright Joe Shlabotnik and licensed for reuse under this Creative Commons Licence
The park is divided in different sections, each planted with different species that grew on the tracks during its years of abandonment. The photos below show the Chelsea grasslands, the Chelsea Thicket and the lawn.
The end of the park at 30th Street has another unique feature where the deck structure has been removed and partially replaced with a glass floor, the remainder left open to expose the street below and structural frame of the high line.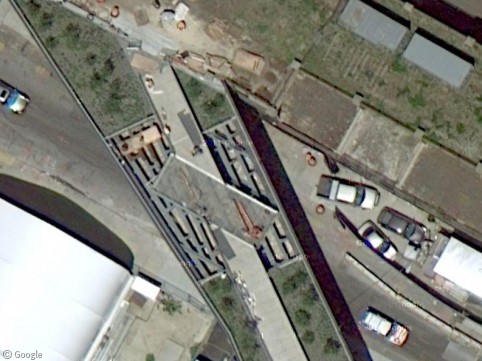 The last part of the high line is the Hudson yards area and at the moment its future is still unknown. The Friends of the High Line are trying to preserve the remaining section and continue the park around the rail yard, but at the moment it's all subject to redevelopment plans, and its future remains undecided.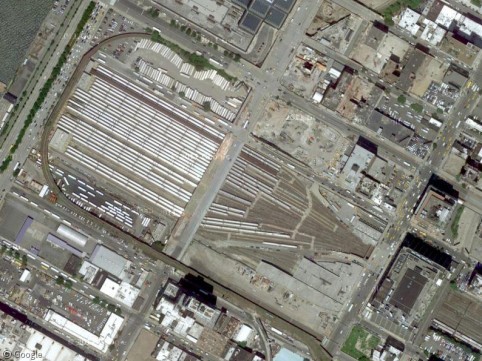 Read more about about the high line at National Geographic or view their photos. Watch Robert Hammond give a presentation at Ted about building a park in the sky.