Fuji Speedway
Wednesday, 8th February 2012 by Kyle Kusch
Back in the early 1960s, Japanese developers had an idea to hold American stock car-style races in the shadow of Mount Fuji. While the initial vision of a banked oval never panned out, the racing circuit that became Fuji Speedway has played host to the Japanese Grand Prix 13 times, as well as Le Mans prototypes, Super GTs, and now the Street View car and trike team!
Fuji has undergone numerous changes and rebuilds since its 1965 opening. The current course has been in place since 2006 and measures 4.563 km (2.835 mi) in length, including the monstrous 1.5 km (0.9 mi) front straight.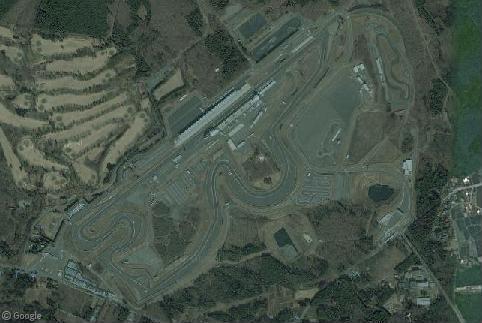 The huge straight owes its existence to the original design of the circuit as a giant banked oval track. Only one of the banked corners was ever built, but it is still readily visible today. Banked at 30 degrees on a downhill slope, the corner resulted in so many fatalities that it had to be abandoned in 1974 in favour of a new configuration.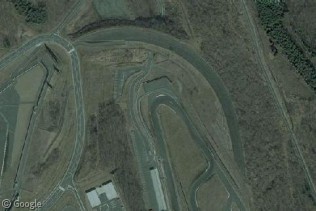 On the opposite side of the circuit is 30R, the tight hairpin at the end of the straight that forces drivers to abruptly slow down from 310 km/h (193 mph). As you can see, the hillside seating area is a bit more rustic than the main grandstand seating area.
Fuji gave up hosting the Japanese Grand Prix after 2008 (the race has returned to Suzuka, another track visited by Street View), but there's still plenty of racing going at the speedway. In fact, Street View caught pieces of three different racing events during its visit. Below we see Super GT cars being prepared for Friday practice both in the paddock and in the pit lane.
Spectators are already beginning to pour through the turnstiles and trickle into the stands, where they will undoubtedly be bombarded with all sorts of trackside advertising (in fact, they even get hit with it on the road leading into the circuit).
These race fans are early risers, as the pit lane scoring pylon shows us that it's 7:24 in the morning. Forced perspective allows the pylon to dwarf Mount Fuji in the background.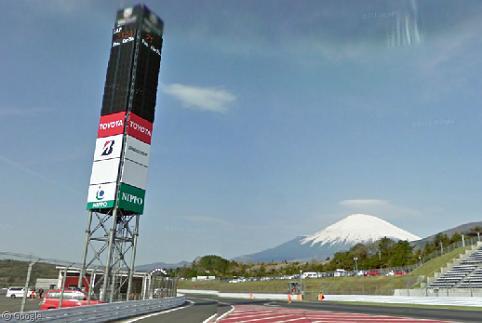 The main circuit isn't the only hotbed of racing action at the speedway. In the outer parking lot lie two tracks designed for karting and pocketbike racing. The Street View car gets right into the action, following the drivers around both circuits.
As this motorsport fan knows, racing happens every weekend at Fuji Speedway, but a visit from Street View is so momentous it's worth a picture on its own!