Rock 'n' Roll R.I.P.s
Tuesday, 28th February 2012 by Kyle Kusch
As we've covered before with the 2009 passing of Michael Jackson and our look back at 'The Day the Music Died', the world has a certain reverential (or just morbid) fascination with the death sites of famous musicians. The pantheon of dead music legends is far too great (and depressing) to capture in just one article, but here's a look at just some of the famous/infamous places where great talents have met untimely ends.
Likely no death in music history shocked the world as did the murder of John Lennon on the steps of The Dakota apartment building in New York on 8 December 1980. Each year on that anniversary, a memorial procession is held in front of the building led by Yoko Ono that ends across the street at the appropriately named Strawberry Fields memorial in Central Park. The Dakota itself is a rather stately building from the 1880s and was declared a National Historic Landmark in 1976.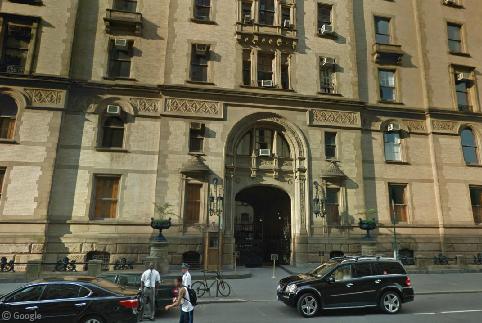 The hazards of constant touring and travel mean that some of our musical heroes meet their demise on tour - such as Buddy Holly. And then there are those who simply run into misfortune on the way home from a night out, as did T. Rex's Marc Bolan in 1977 when low tire pressure in the vehicle in which he was a passenger resulted in a crash with a tree in Queen's Ride, Barnes. Fans quickly turned the site into an impromptu shrine, and tributes continue to arrive to this day.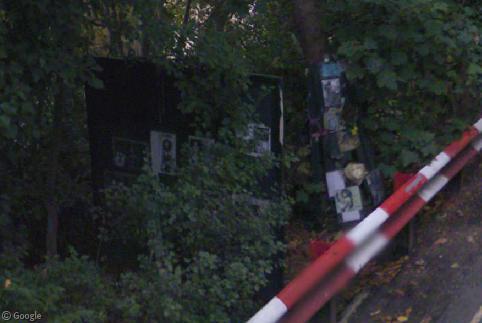 Others who saw their time on Earth end in the midst of touring include Metallica's Cliff Burton (who was killed in 1986 when he was thrown through the window of an overturning tour bus on this stretch of rural Swedish roadway), and Lynyrd Skynyrd's Ronnie Van Zant, Steve Gaines, and Cassie Gaines – who all perished when their chartered plane crashed in this forest near the Mississippi-Louisiana border.
Perhaps the most infamous residence in rock history was the flat at 9 Curzon Square, Mayfair, London owned by Harry Nilsson. The cursed house was often lent by Nilsson to other musician friends while he was on tour, two of whom died while staying there: 'Mama' Cass Elliot in 1974 (and no, she didn't choke to death on a ham sandwich) and Who drummer Keith Moon in 19781. Further to the north in London we find the Camden Square home of Amy Winehouse where she died in 2011.
Sadly, while we in the midst of compiling this post, another music legend, Whitney Houston, passed away in her suite at the Beverly Hilton Hotel in Beverly Hills, California on 11 February 2012 at the age of 48.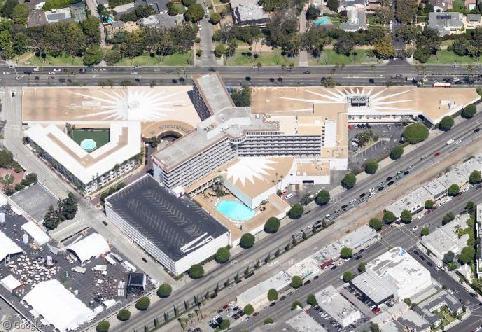 When famous musicians pass on, places like these can become rather busy memorial sites, often seeing thousands of visitors each year making pilgrimages in honour of their fallen heroes. The area surrounding the tomb of Jim Morrison at Paris' Père Lachaise Cemetery, for example, became a haven for large crowds, vandalism, drunken parties, and even occult rituals over the years; at one point the grave had to be covered in stone in order to prevent attempts at digging up Morrison's body.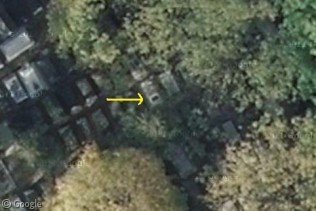 Also in Paris sits this wall outside the longtime home of legendary French singer-songwriter Serge Gainsbourg. In the two-plus decades since Gainsbourg's death, the wall has been consistently covered in graffiti, including poems, lyrics, and images of Gainsbourg.
There are also impromptu memorial sites that only last for a few days or weeks. Street View just happened to be travelling through Detroit in July 2009 shortly after Michael Jackson died, and captured Hitsville USA2 – the former headquarters of Motown Records where the Jackson family got their start in the record business (now a museum) – which was temporarily swathed in an array of tributes and offerings.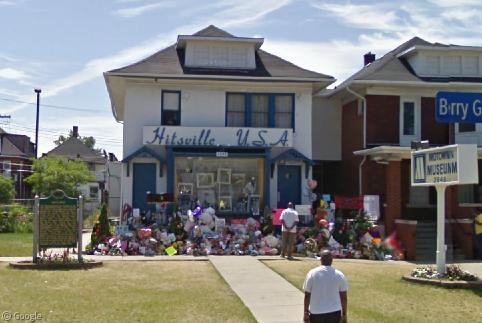 Have you found other infamous music haunts such as these on Google Maps? Feel free to share them with us in the comments below.
---
Needless to say, Nilsson sold the flat after the second death. ↩︎

Google Sightseeing also visited Hitsville USA in 2009 with our look at famous recording studios. ↩︎