Sculptures by Jonathan Borofsky
Wednesday, 13th February 2013 by Ian Brown
Jonathan Borofsky (b. 1942) is an American sculptor and printmaker who is best known for his Hammering Man series of kinetic sculptures which are installed in various cities around the world (some of which we visited briefly in 2006). Today, thanks to improved aerial imagery and the addition of Street View, we can now see many more of his large-scale artworks in public spaces around the world. We'll start with his Hammering Man series, the largest of which is found in Seoul.
Standing 22m (72ft) tall, this steel sculpture - like most of the others in the series - has a motorised arm which makes a slow hammering motion every 77 seconds (video). In 2008 it was moved a few metres closer to the street to "interact more fully with the urban landscape".
A close-up of the feetemphasises the enormous scale of the sculpture - people barely reach its ankles!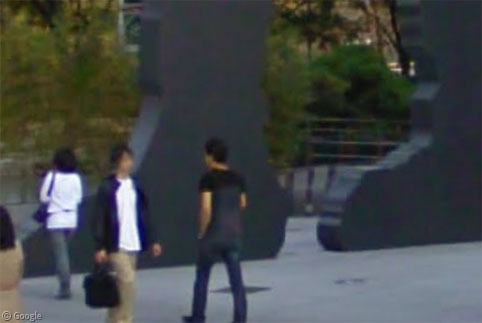 The Hammering Man sculptures are meant to represent all workers, manual labourers and craftspeople around the world. Typically, the arm movement is switched off at night and on national days intended to honour workers, such as Labor Day in the US.
The Hammering Man in Frankfurt (featured in our original post) is just one metre shorter than the one in Seoul.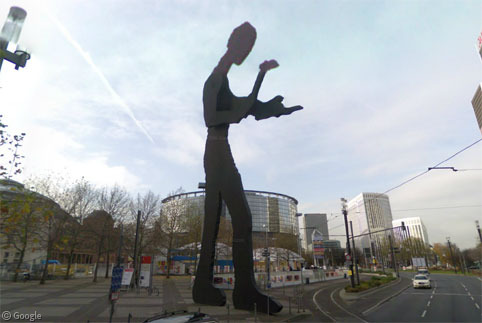 For idle amusement, you can create your own 'stop motion animation' of the hammering motion, by starting here, where the hand is raised, and clicking forward (actually backwards against traffic) - the arm was falling as the Street View car drove away from the sculpture!
Elsewhere in Frankfurt there is an unauthorised - and much smaller - copy of the Hammering Man. It was created by a community group to protest a 1993 neo-nazi arson attack. The one visible on Street View is the second version - the original was damaged and removed in 2007.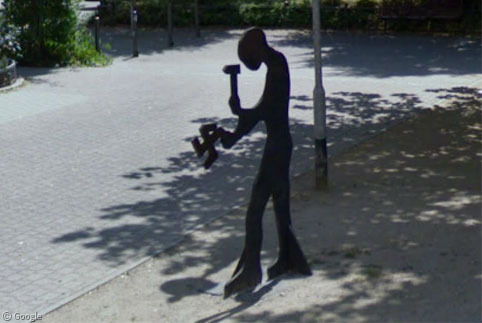 In Seattle, the 14m (48ft) Hammering Man stands outside the city's art museum and is mirrored by the crossing signal in front of it.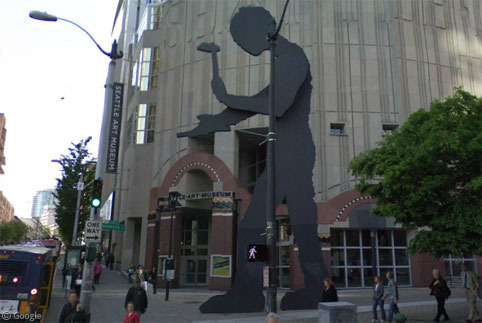 We're also able to get an entirely different perspective. At first glance, I thought the statue had been completely removed - but in fact it just highlights how two-dimensional the sculptures are.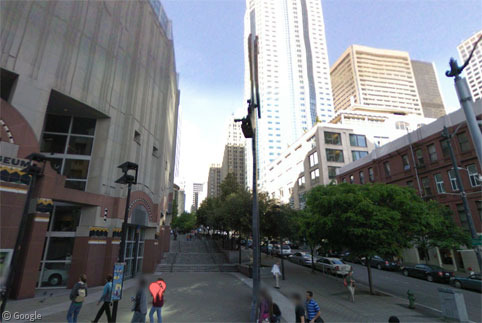 In Switzerland, the Hammering Man in Basel is - perhaps appropriately - surrounded by construction work. Again he 'disappears' when seen from a different angle, though in this case he's revealed by his reflection!
In Los Angeles, a Hammering Man Sculpture was installed in 1988 in a courtyard near the intersection of Ninth and Main. It can just be glimpsed on Street View.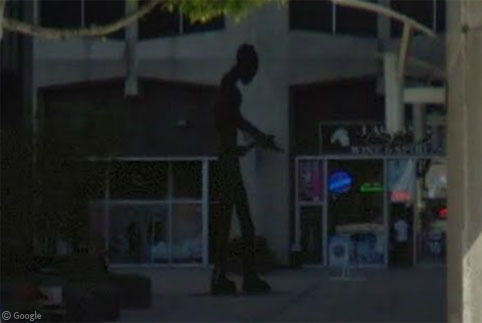 A couple of hours to the south, the Hammering Man in La Jolla has one of the most scenic locations, surrounded by palm trees and with a view of the Pacific Ocean.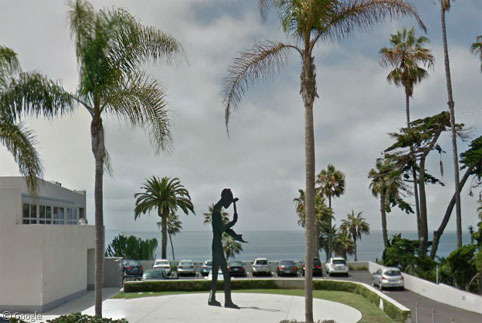 There are also Hammering Man sculptures inside a number of art galleries and private buildings in cities around the world1. However, Borofsky has created many other public artworks, often with representations of the human form. Another series is called Walking to the Sky, which has a number of figures walking up a 30m (100ft) inclined pole.
The first Walking to the Sky sculpture was installed outside the Rockefeller Center in New York in 2004 then moved a year later to the Nasher Sculpture Center in Dallas, where we can just see a portion of it from the road outside the garden (which also apparently houses a Hammering Man).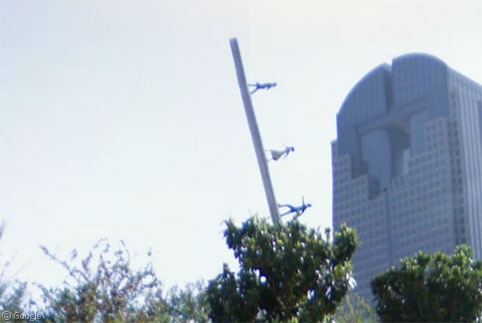 Walking to the Sky was inspired by stories Borofsky's father recounted when he was a child, in which people visited a giant in the sky. It is intended to be "a celebration of the human potential for discovering who we are and where we need to go."
A copy of the sculpture can be found at Carnegie Mellon University in Pittsburgh, where Borofsky studied Fine Arts. Its 2006 installation was received with some controversy by the student body who described it as "ugly and cumbersome" and "a huge phallus". Eventually the original was found to be structurally unstable so a second version had to be, er… erected.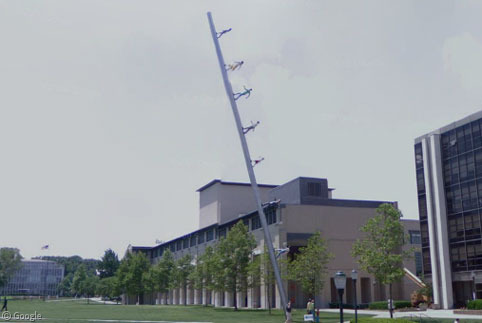 Another copy of Walking to the Sky is installed outside a commercial building in Seoul.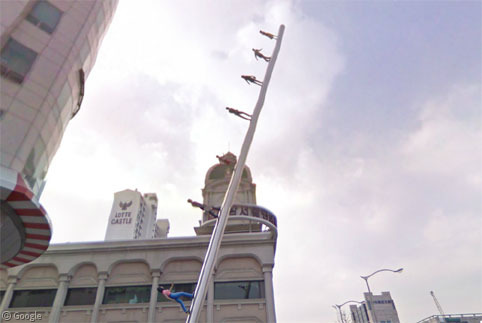 To wrap up, here are all the remaining Borofsky artworks that I was able to find on Google Maps!
Male/Female - a series of different sculptures which include a 9m (30ft) sculpture in Biedefeld, Germany...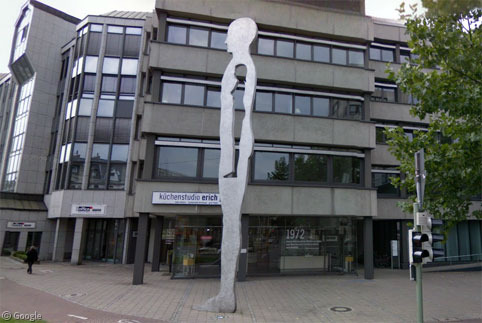 ... a 16m (52ft) structure in Baltimore...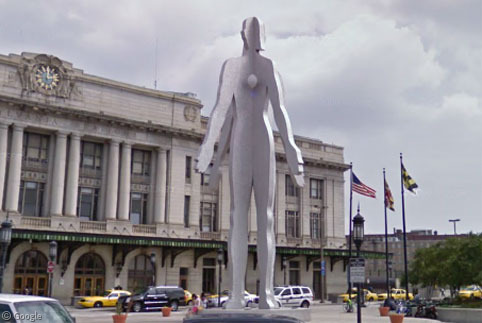 ... and a wire-frame structure in Offenburg, Germany, which is just about visible on the satellite image.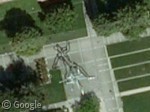 Molecule Man (also featured in our original post) - a 30m (100ft) sculpture which stands in the Spree River in Berlin and outside an arena and convention centre in Council Bluffs, Iowa (and in the West Yorkshire Sculpture Park, though it's not clearly visible).
Walking Man in Munich.
Human Structures on Mission Street in San Francisco.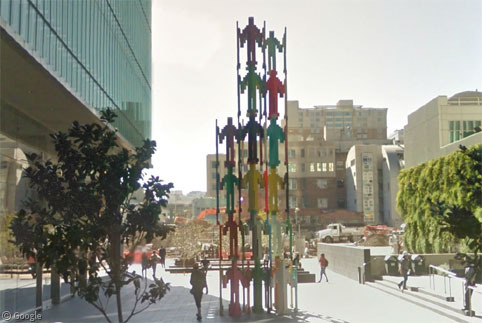 And finally, showing a different side of his work, Ballerina Clown in Venice, California. A cross between a classical dancer and a street performer which Borofsky apparently feels is right at home with the mix of personalities found on the nearby boardwalk.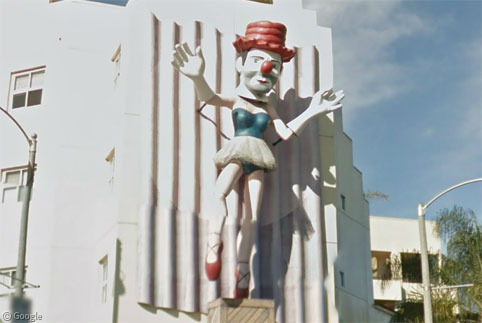 If this tour has inspired you to learn more about his work, you can read more about Jonathan Borofsky on Wikipedia, or at his own site.