The contradictory position of satellite censorship
Thursday, 8th May 2014 by Ian Brown
In the early days of online mapping, sensitive locations were often censored for security reasons. Examples include military installations, government buildings, royal residences, prisons, power plants and more. However in many cases blurring happened on one service but not another. When features such as Street View and 45º coverage became more widespread, the original blurred images weren't updated, leading to many confusing mapping contradictions. One of the most blur-happy nations is the Netherlands, and one of the biggest contradictions is the Koninklijk Paleis in Amsterdam, which has detailed interior Street View on Google ...
... but which is still censored on Bing Maps' satellite image.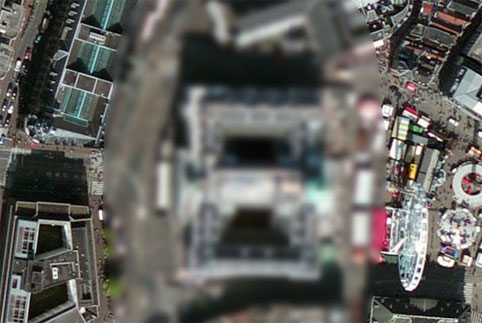 This pattern is repeated with the satellite imagery at several other Dutch royal palaces, including the Huis ten Bosch royal palace ...
... and the Paleis Noordeinde and Royal Stables.
However, the reverse is true in a number of locations. For example, Bing has clear imagery of the Generaal Majoor de Ruyter van Steveninck Kazerne military barracks and training ground ...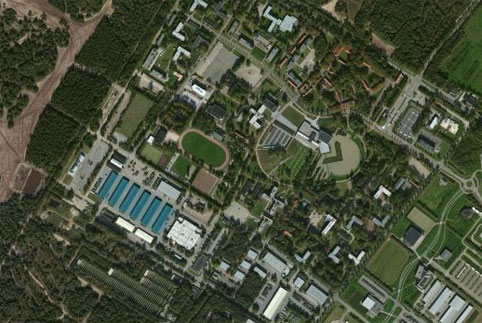 ... but on Google the facility is totally pixelated.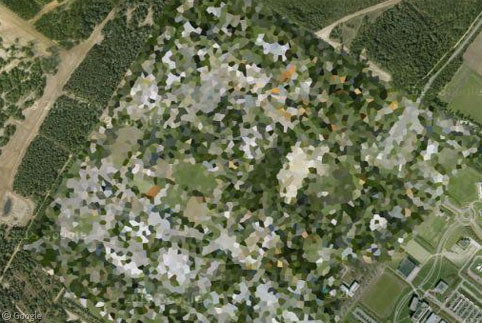 The same is true for the Volkel Air Force Base.
Meanwhile you have to wonder why the Gilze-Rijen Air Base is pixelated on Google Maps ...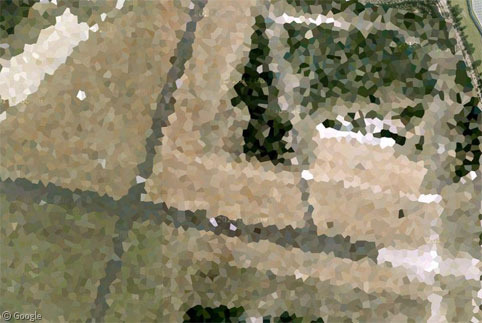 ... when there is Street View imagery right at the end of the runway!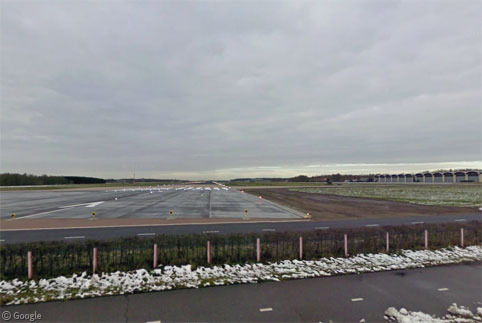 We're also not sure why part of this property in Utrecht is blurred on Google's satellite images (and the whole block blurred on Bing) when Street View is available of the exterior? Maybe there is something we're not supposed to see on the roof?
There are many other examples around the Netherlands, but lets move on to look at contradictions found in other countries. In France, Bing doesn't want you to look at the nuclear fuel reprocessing plant in La Hague, but Google has no such qualms on either satellite or Street View.
Meanwhile Google and Bing both hide this location on their satellite imagery, but Street View reveals that it is a HWU transmitter facility for communication with submarines.
At the Nato Airbase in Geilenkirchen, Germany, Google blurs one end of the runway, and there is a mysterious gap in the Street View coverage of a nearby road. Curious what's there? Bing will show you - maybe some kind of storage facilities?
In Poland, this military facility is blurred on Google's satellite images, but Bing is uncensored and Street View has imagery of the surrounding roads and the exterior of the facility.
The town of Chekhov, a short distance south of Moscow, is entirely pixelated on Google's satellite imagery, but it's not clear why because the whole area can be toured on Street View, even revealing some interesting murals on the buildings.
In Spain, an Army Command Signals facility is clearly visible on Bing's aerial view, but blurred on Bird's Eye view. (And on Google the base is from a different image capture to the entire surrounding area.)
Finally, the same is true for a military building in Sweden - uncensored on Bing's aerial view, but heavily pixelated on Bird's Eye view, though Google's images are perfectly normal.
There's a detailed list of these censorship contradictions on Wikipedia, though it has become somewhat outdated due to the rapid pace at which the imagery is updated. If you know of any other confusing differences between maps, please post them in the comments.