Natural Arches
Wednesday, 16th July 2014 by Ian Brown
Natural arches - also known as natural bridges - are formed when relatively soft rock is worn away by the action of tides, rivers or weather erosion, leaving behind a bridge-like structure of harder rock. Although there are thousands around the world, most are in remote areas unlikely ever to be visible by ground-level Google imagery (and overhead satellite views usually don't reveal the arch). We can, however, take a look at the few that are visible on Street View, beginning with Durdle Door on the south coast of England.
This limestone arch was formed when a softer chalk layer was eroded by the sea, variations of its name (from an Old English word meaning hole) has been recorded for over a thousand years. Although it is on private land, the beach here is open to the public, and the South West Coast Path passes nearby.
Over in the south of France, the Pont d'Arc was originally part of a larger cave system created by the Ardèche River. Over time virtually the entire system collapsed, leaving just the 54m (177') high arch.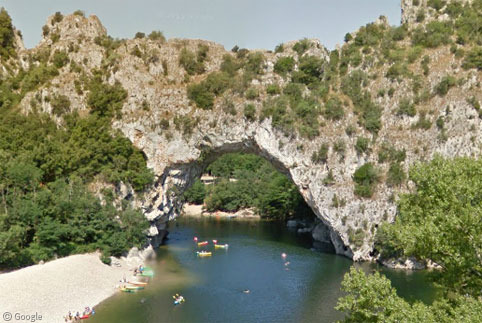 Moving to the Spanish island of Mallorca, Es Pontàs is a popular (and difficult) rock-climbing spot, as shown in this YouTube video.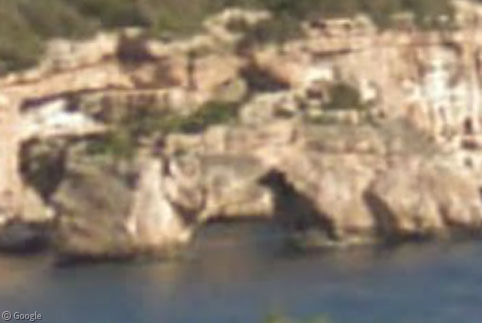 All natural arches are inherently fragile, and with enough time and continued erosion1, many will collapse, leaving stacks of rock behind. In Australia, London Arch on the coast south-west of Melbourne used to be a rare double arch. In the summer of 1990 the arch nearest the shore collapsed. Two lucky tourists witnessed the collapse and the conversion of the rock they were standing on into an island, though unluckily they were therefore stranded until a helicopter could rescue them.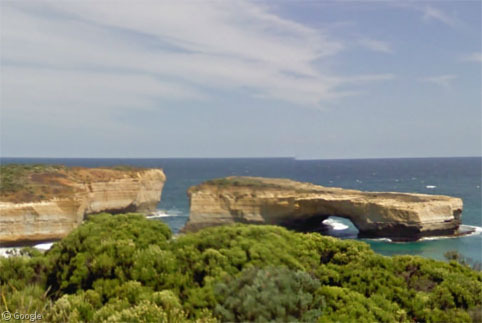 In Japan, the public is warned to stay away from the sandstone arch on Engetsu Island because of fears that its collapse is imminent.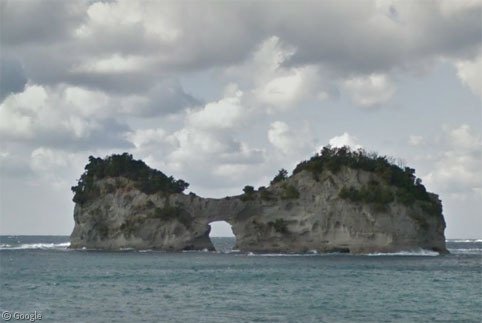 Percé Rock on Canada's east coast is believed to have originally had three limestone arches, one of which has long since been lost to the sea. The second collapsed in 1845, leaving a stack standing next to the large island which has just one arch remaining, but which is still grand enough to be a popular tourist attraction in this region of Quebec.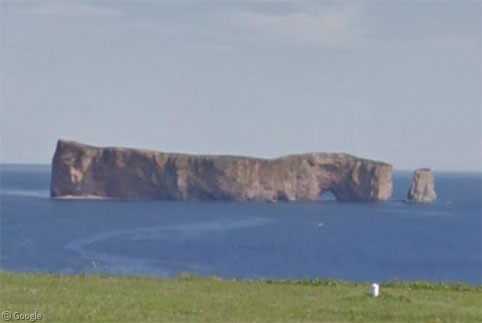 Two of California's natural arches are visible on Street View: the sole remaining (of three) at Natural Bridges State Beach ...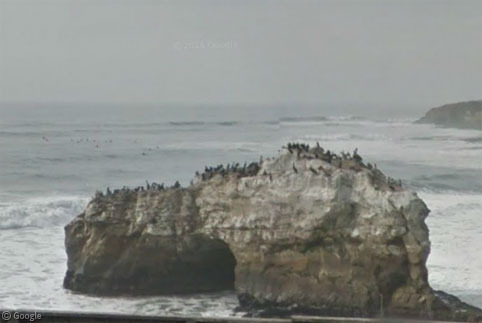 ... and the one at Goat Rock Beach.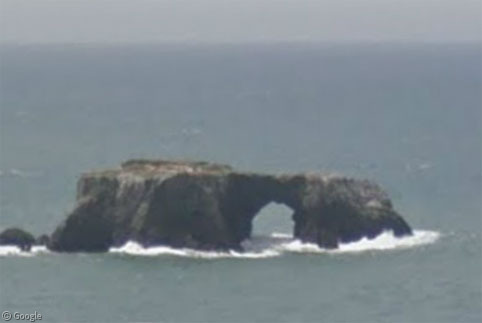 A few years ago we had a short post about Arches National Park in Utah. Street View captured a number of spectacular arches in the park from hiking trails, including Landscape Arch.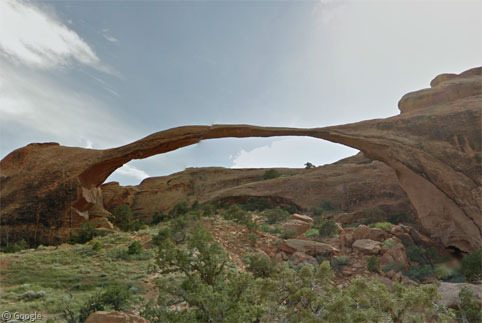 A single Street View image on the nearby road allows us a glimpse of Skyline Arch.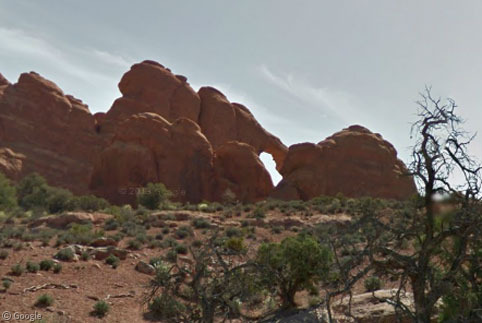 To the south-east is Double Arch which has two bridges originating in a single segment of rock.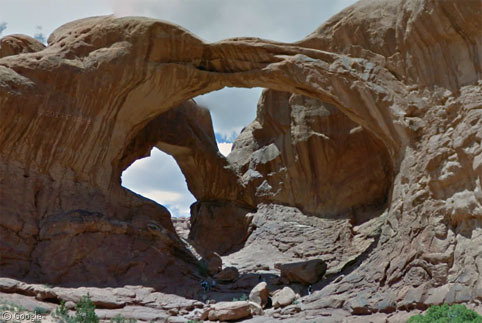 And nearby are three further arches: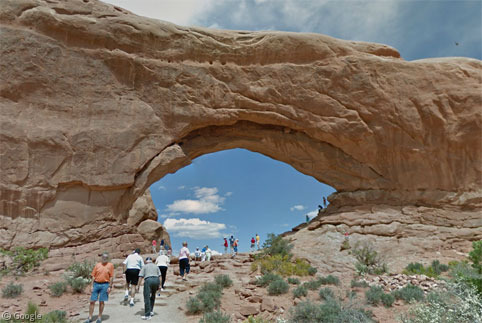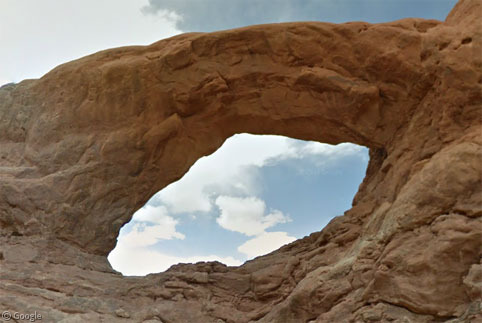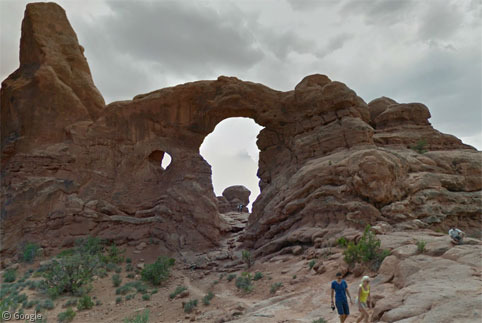 To make this post more complete, we'll use some Photospheres to visit other natural arches elsewhere, beginning with the Natural Bridge on Cedar Creek in Virginia; Photosphere by Hao Shen.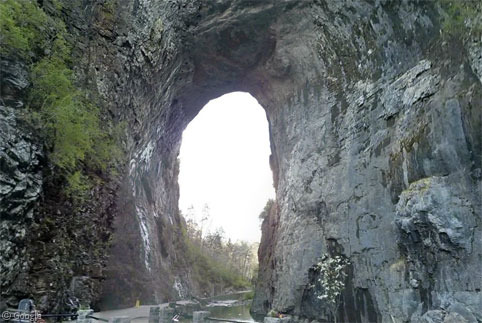 In Wyoming, John Roberts took this Photosphere of Ayers Natural Bridge.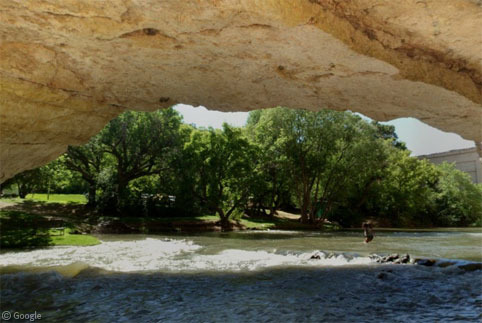 Mexico's El Arco de Cabo San Lucas was imaged by Jesús Emmanuel González Pio.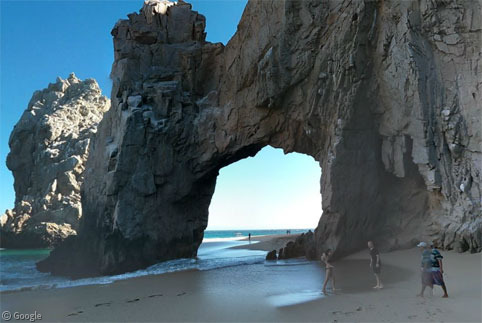 Back to Europe, where a pair of arches in close proximity on the island of Gozo in Malta can be seen in Photospheres by Uwe Bücher:
The Azure Window ...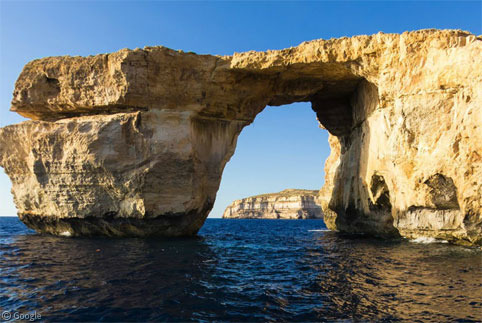 ... and the Inland Sea.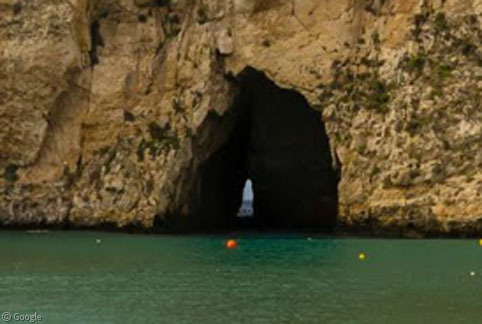 In the Czech Republic, Akram Bary photographed the Pravčická brána.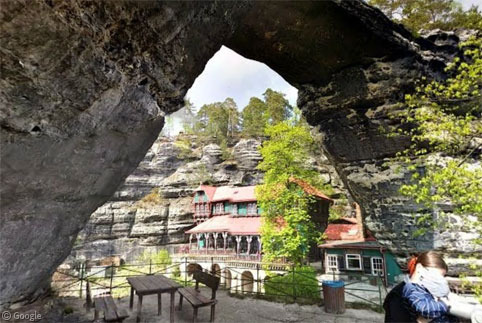 Finally, in Jordan, the Jabal Umm Fruth Bridge Photosphere was created by Chuck Sirron.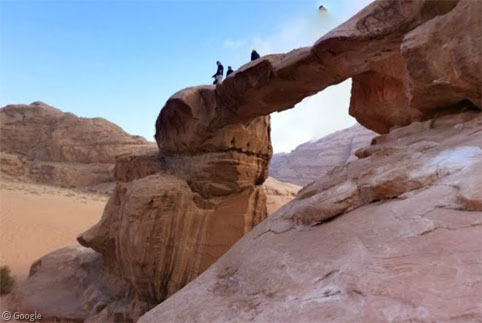 This post was based on Wikipedia's list of prominent natural arches, and that page also has more information about how natural arches are formed. However, there are many more around the world so if you know of any others which are visible on Street View or in Photospheres, please post them in the comments.