Stardust
Tuesday, 13th March 2007 by James Turnbull
BBC News today has a spectacular video clip of Las Vegas' Stardust casino imploding as the final part of a controlled demolition. Of course, being Las Vegas, the demolition is done in an over-the-top style with a giant countdown clock, lasers and fireworks.
Google Earth's image updates aren't exactly daily, so we can still see the whole casino as it once stood and, judging by the aerial photo, it was a very large building. Of course, somehow the replacement casino Echelon Place is going to be even larger, taking up a massive 83 acres of land.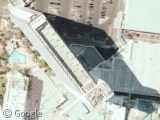 World's-largest fact of the day: the Stardust's electric sign was at one time the largest in the world so has been saved from the destruction and is now preserved in the Las Vegas Neon museum.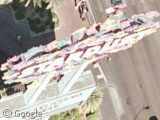 Wikipedia: Stardust Resort & Casino.
Thanks: Trina.