Whakaari/White Island (Volcano Week 3)
Friday, 17th October 2008 by Alex Turnbull
Whakaari/White Island (to give it its official title) is an active andesite stratovolcano 48 km from the east coast of the north island of New Zealand. The volcano reaches 321 m above sea level, but this is actually just the tip of a 1600 m submarine mountain.
Notably, even though the imagery here is low-res you can't possibly miss the impressively huge smoke plume that stretches northwards away from the island.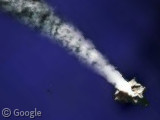 Thanks to Henk Bokhoven.