Sayano–Shushenskaya
Tuesday, 8th September 2009 by Ian Brown
Sayano–Shushenskaya was – until a recent accident – the largest power plant in Russia, and the sixth largest hydroelectric plant in the world.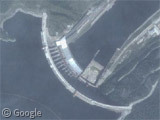 The main feature of the power station is a dam 245 m high and over a kilometre long. Construction was completed in 1978, though spring floods caused moderate damage in three of the ten following years. However, the accident on 17 August 2009 was much more serious, with at least 73 people having died, a large oil spill into the river, and severe damage to several turbines and other parts of the facility, leading to a total shutdown.
While some operations could restart in the near future, complete repairs could take 4 years and cost over a billion dollars. Youtube has a video of the accident1 and English Russia has a couple of sets of photos of the aftermath: 1, 2.
The power station near the dam distributed 6400 MW of power to 2 double sets of lines (clearly visible on the high resolution images) which head north through wide sections of cleared forest before dividing into east and west routes.
The Eastern route heads to the town of Sayanogorsk which is most affected by the loss of power.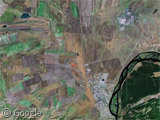 Following the cables and pylons north of town they eventually run to one of the world's largest aluminum smelters. It is unfortunately partially obscured by cloud, but you can zoom in to see trains, storage tanks and assorted industrial buildings.
This smelter consumed up to 30% of the power generated by Sayano–Shushenskaya, and will see a long-term 50% drop in production as limited power can be diverted to it from other sources.
---
If I was the guy in the white shirt, I'm not sure I'd be running towards the dam when that was happening… ↩