U.S. States
The Statue of Liberty and Liberty Island. You can also see the Staten Island ferry going past in the bottom right.
Only just legible, but very cool, the Hollywood sign. Now I don't need to go there to see it.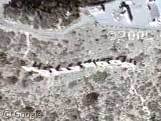 Disney World, FL: With Mickey shaped pond. Scroll up for more (it's a big place!).