Tools
Google Earth Network Links
A Google Earth network link is a placemark folder that automatically updates with the newest Google Sightseeing sights. All you have to do is load up the following KML files in your copy of Google Earth.
You can view hundreds of Google Sightseeing places across the globe by subscribing to the Full Network Link and to keep up with the latest finds on the site you can also subscribe to the Latest Posts Network Link.
The Google Sightseeing placemark icon was designed Adam Betts. Thanks!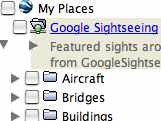 Google Subscribed Links
Google's "Subscribed Links" is a cool new feature for Google Search which, when you're logged into your Google account, allows you to subscribe to dynamic search results from your favourite websites.
We're created a Subscribed Links feed for Google Sightseeing, which will give you 3 recent posts any time you search for a country name. You can view example results and subscribe on our profile page.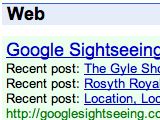 Google Sightseeing Widget
If you're running Tiger on your Mac then make sure your Dashboard has the Google Sightseeing widget – it can display either the 20 latest posts or comments (although you could of course have one widget for each if you like).
The Google Sightseeing widget was developed bu the nice guys at Colorworks.