San Francisco's Golden Gate bridge. Looks like a nice day.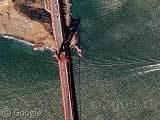 Some of Las Vegas' top casinos all in one image. There's the Sahara top left, then New York, New York below that (complete with Statue of Liberty on the corner). Eastward of NY is the MGM Grand (which looks quite…
Crazy, here's Niagara Falls, and I had no idea it went from America, Northwards to Canada! I always thought it was the other way around. Oh well, that shows you what Superman teaches us… nothing.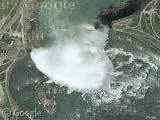 Here's the Whitehouse, complete with 'national security protection' (some quick Photoshopping…)