Edwards Air Force Base has this giant compass-thing scraped into the desert. I assume it's to help pilots orientate themselves when landing or taking off.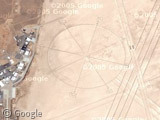 Wow – there are a LOT of planes in Pima Air & Space Museum. It looks like they've got at least 10 of each plane, all laid out in very neat rows. Also of note is the plane scrapheap –…
This one shows you how long ago some of this images were taken. Here's Concorde at JFK, presumably before April 2003. I've also beeen wondering if the people at Keyhole (Whom Google bought the technology from) had to Photoshop out…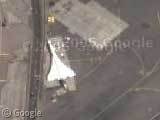 The Headquarters of the United States Department of Defense are very easy to spot from space.
I had no idea it looked like this!