The Clarence Buckingham Fountain
Thursday, 26th May 2005 by Alex Turnbull
Dedicated in 1927, the Clarence Buckingham Fountain was a gift to the city of Chicago by somebody I've never heard of, to her brother Clarence. Apparently.
Much more interesting is that it's the fountain featured in the opening credits of Married With Children! What's also quite cool is that the fountain's night-time light shows are actually used to be controlled by a computer located in Atlanta, Georgia (but have now moved to Chicago I'm afraid).
The fountain is in Grant Park, and judging by the large wet patch on the ground I'd say that the Windy City had a fairly strong southwesterly blowing that day! Also, check out the colour of the water, very cool.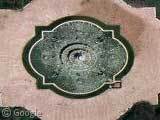 Thanks to Peter, Justine, David Drexler, Rick Baer, Marcin and Chris Granger.