Athens Olympic Sports Complex
Saturday, 25th June 2005 by James Turnbull
Here is the sports complex used for the 2004 Summer Olympics in Athens. Most of the venues were still under construction at the time of the photo, but you can still see the various sections.
Starting from the west is the Olympic Velodrome (with photo-stitching error) which was used for the track cycling. To the east are the open air swimming pools (of which only one is filled). Then we get the Olympic Indoor Hall before the Olympic Stadium, with the two parts of the roof lying to either side. North east are the sixteen tennis courts.
For comparison a more recent satellite photo is available on Wikipedia.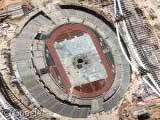 Thanks: Bill Kendrick, Jean Lorraine, Chris Jernigan, Anne Mathews, Marc Armstrong, Tim, Freddie, Terry Foster, Jim L., Daniel Jibouleau, Michael Davis