Bahá'í Temples
Thursday, 14th July 2005 by James Turnbull
The Bahá'í Faith is one of the youngest of the world's major religions. There are currently seven Bahá'í Houses of Worship in various parts of the globe, although we can only find two of them available in high-res satellite shots.
Our first temple is in Wilmette, Illinois USA and one submitter noted that it resembles a big egg from the ground.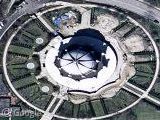 The second Bahá'í Temple available on Google Maps is also the most famous, The Lotus Temple in New Delhi apparently holds the title of "most visited edifice in the world", designed to resemble a lotus flower it is composed of 27 free-standing marble clad "petals" and is just over 40 meters tall.
Thanks: Joe Chin, Artem Koronkevitch, Sathish, Saikat Guha, Ashutosh Rajekar, Jay Hinde, Rob B, Tom, Eamon, Esquif & Ananya Gupta