Silverstone
Monday, 11th July 2005 by Alex Turnbull
Please note that some or all of the objects mentioned in this post are no longer visible on Google Earth or Google Maps.
This is the Silverstone racing circuit home of yesterday's British Grand Prix. The track is half in Northamptonshire, half in Buckinghamshire, and you can still see the classic configuration of runways from when this used to be a World War II airfield. During the Grand Prix the airfield becomes the busiest in the UK, complete with its own air traffic control, and supposedly with a helicopter taking off every 8 seconds! (Wikipedia page)
If you look closely you can actually see cars driving round (there's one visible in our thumbnail), and at the intersection of two runways in the centre of the track you can clearly see 3 bright red cars - a Ferrari presentation perhaps?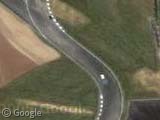 Thanks to Thomas, David Patrick, Rob, Mark, David Patrick, Paul Marciano, Steve Owen, Lianachan, Jan Koubek, Huw Morris, Rickard Jensen, Nick, Adam Sadler, Mario Sarno, Alessandro Guerra, Sean, Markus, Daniel Jibouleau, Kevin S and Stewa.