The Euromast
Wednesday, 28th September 2005 by Alex Turnbull
Sticking with members of the World Federation of Great Towers, this is Rotterdam's 186 metre-high Euromast. Apparently the tower is built on a concrete block weighing 1,900,000 kilos!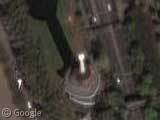 You can see the view from the 100 metre-high restaurant on the official site, and Hans points out that the red structure on the water just to the south is another floating Chinese restaurant!
Thanks to Alessandro Lo-Presti (Agilo), Aar Clay and Hans.