Macau Sky Tower
Friday, 18th November 2005 by Alex Turnbull
The is the Macau Sky Tower which at 338 metres, is a very tall tower for such a little place. Macau is a bit of a gambling mecca, and this tower was built by local casino-billionaire Stanley Ho Hung-Sun after he saw the New Zealand Sky Tower, and decided he wanted one for himself.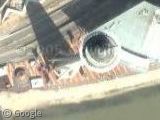 The Macau Tower is also yet another member of the World Federation of Great Towers to add to the collection.
Thanks to Mark and Rob B.