Vilnius TV Tower
Wednesday, 7th November 2007 by James Turnbull
The Vilnius TV Tower is the tallest structure in its home country of Lithuania and yet another member of the famous World Federation of Great Towers to add to our collection.
At 326.5m tall, Vilnius TV Tower doesn't break any records within the federation.
However, come December, the tower will transform itself into the tallest artificial Christmas tree in the world, a title which it has held each year since 2000.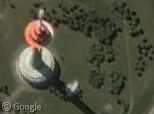 As with all federation towers Vilnius features a observation deck, but this one is unique in that it also serves as the starting point for bungee jumps off the tower.
For locals the tower has now become a symbol for freedom and independence. In 1991 Soviet forces attempting to squash Lithuania's claim to independence stormed the Vilnius TV Tower, which was being surrounded by unarmed civilians, killing 14 and injuring over 700.
More on Wikipedia and in your pocket.
Thanks to Adrian & Gediminas