Somerset Bridge, Bermuda
Friday, 31st March 2006 by Alex Turnbull
This is the Somerset Bridge in Bermuda – which is apparently the smallest working drawbridge in the world! Wikipedia says the bridge:
consists of two cantilevered half-spans, separated by a 32-inch (80 cm) gap bridged by a thick timber panel. The panel is removed whenever a yacht wishes to pass beneath the bridge, allowing the unsailed mast to pass through the gap.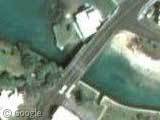 Some dude at Princeton (who's lucky enough to take family holidays in Bermuda) has a great river-level shot of this tiny sight.
Thanks to Sara.