Sydney Harbour Bridge
Wednesday, 8th March 2006 by Alex Turnbull
Just north-west of the Sydney Opera House stands the mighty Sydney Harbour Bridge, Not only is it the world's largest single-arch bridge, but it's also the widest long-span bridge in the world (although not the longest, as millions of Australian school children were supposedly taught).
The bridge is 49 metres across and has 8 lanes of traffic, a footpath. 2 railway tracks and a bicycle path on it!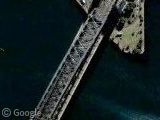 More about Sydney Harbour Bridge at Wikipedia.
Thanks to Paul Munro, Don Campbell and Glenn Slaven