E³ at the Los Angeles Convention Center
Tuesday, 9th May 2006 by Alex Turnbull
If you've ever picked up a joystick, then you're probably aware that this is the week of the annual Electronic Entertainment Expo (E³), which takes place at the Los Angeles Convention Center each year.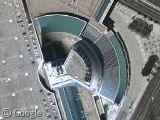 Here you can see the building's glass frontage (which currently has the E³ livery splashed all over it), and you can get a feel for how big this venue is. Last year E³ apparently had over 70,000 visitors (all either game industry professionals, celebrities or journalists), and with the global games industry worth, er, um.. a lot, it looks like E³ is only going to get bigger.
And if you're not into electronic games, well, the (previously posted) Staples Center is right next door! See, it says so on the roof.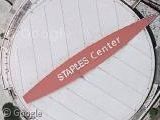 This $375 million dollar sports arena has an incredible 4 million visitors a year, has hosted everything from the U.S. Figure Skating Championships to WrestleMania, and is the only arena that is home to five professional sports franchises; some slightly better known outside of LA than others:
More info at Wikipedia on E³, the Los Angeles Convention Center and the Staples Center.
Thanks to Robb, Aurélien Hamel, James and Emily Miller.