LA Coliseum
Friday, 17th June 2005 by James Turnbull
The Los Angeles Memorial Coliseum hosted both the 1932 and 1984 Olympic Games and the Olympic torch, which resides at the east end, is still lit during football games. The Coliseum was also the site of the very first Super Bowl in January 1967.
Update: Thanks to Kate for the following info…
The swimming pool just to the south is, officially, the Los Angeles Swimming Stadium. Slightly north of the Coliseum is the Natural History Museum of Los Angeles, and to the east of that is the Rose Garden (the carefully patterned garden area) and the California Science Center.

The airplane visible above the dirt area to the east (which is construction work) is part of the Los Angeles Aerospace Museum, and the big white dome-shaped thing to the south-east of the Coliseum is the Los Angeles Memorial Sports Arena.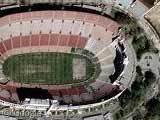 Thanks: Rhett