Allianz Arena
Friday, 9th June 2006 by Alex Turnbull
This is the 69,901 seater Allianz Arena stadium in Munich, Germany, which is due to play host to tonight's world cup opening match. In which case, they might want to hurry up and put some grass in there 😉 Incredibly, the entire stadium is lit up red, blue or white depending on which team is playing, which looks super-cool. They can do combinations too, so might we see something new tonight?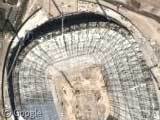 (And yes, before somebody spoils it, this is the first in a series!)
Thanks to Kristian, birphborph, Robertofon, Dennis, Bertrand Capo, Patino, Falco Winschel and Fraser for his joke.