Kawarau River and Bridge
Sunday, 23rd July 2006 by James Turnbull
The Kawarau River and Bridge in New Zealand both have notable claims to fame.
The river, which runs between Lake Wakatipu and Lake Dunstan, played its part in the Lord of the Rings films as Middle Earth's Great River Anduin.
The Bridge, 43m above the river, was the site of the world's first commercial bungee jumping when way back in 1988 a Mr A J Hackett thought that people might actually pay him to jump off a bridge. Here's a Youtube I found of someone doing just that.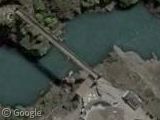 Thanks: Talullah