Spoonbridge and Cherry
Tuesday, 18th July 2006 by Alex Turnbull
Inspired by the National Geographic Photo of the Day last week, I went looking for Minneapolis's Spoonbridge and Cherry sculpture. Unfortunately something got lost in translation.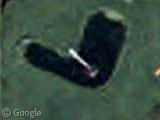 The story wasn't much better on Windows Live Local, or Yahoo! Maps Beta who both use exactly the same image (the traffic on the roads is identical), but interesting to see how differently the other services handle compression of the images. Google actually looks pretty poor in comparison to both of the others.
Anyway, I was disappointed not to be able to see it better, so here's the giant spoon and fruit courtesy of National Geographic.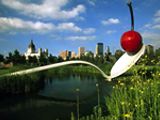 Thanks to National Geographic and Norton Lam.