China's Scale Model
Sunday, 6th August 2006 by James Turnbull
A while back KenGrok over at the Google Earth Community was browsing China's Huangyangtan region and discovered a scale model of Aksai Chin - a disputed terrain on the Chinese / Indian border.
Australian paper The Age did some proper journalism (by using a telephone rather than searching Google) and they discovered that the area isn't that much of a secret. In fact, the authorities were happy to admit that the scale model has been there eight or nine years and is used to train tank drivers.
With that we thought the story was dead, but it's all over the place again so it's about time (ie 2 weeks late) that Google Sightseeing got in on the action.
Here's the model.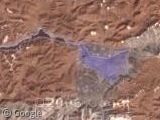 And here's the area it represents.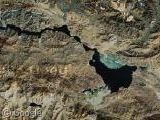 Thanks: Rich, Viper007Bond, Belbo, Gary Shell, Gesh & tt.