Live Satellite Images in Google Earth!
Sunday, 1st April 2007 by James Turnbull
Google Sightseeing can exclusively reveal a major new feature in Google Earth - live satellite images!
Using the live satellite mode I created a screen capture of cars driving down a road, which you can see in the animated thumbnail below.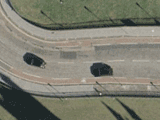 Live Satellite only works for the city of Edinburgh, UK but will be rolled out to other cities in the near future. Apparently Google wanted to keep this amazing new feature quiet so as to not overload the satellite's built-in web server.
If you'd like to see the Live Satellite Mode in action yourself then load up this placemark file.
Be warned that Edinburgh is very cloudy today, so you may have to search around a bit to find a gap in the clouds.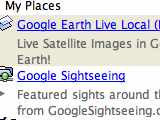 We're told that as Google add the Live Satellite feature to more and more cities they plan to rename Google Earth to Google Live Local.
Please note that this entry is an April Fool's Joke - there are no live images to be seen!