Insein Prison
Tuesday, 25th September 2007 by James Turnbull
Currently in the international spotlight is Burma's Insein Prison where the opposition leader Aung San Suu Kyi is believed to be held.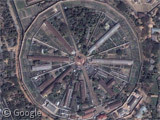 The jail is pronounced as "Insane Prison", which seems to be an appropriate name due to the inhumane conditions and torture tactics.
More on the prison and the ongoing protests in Burma from the BBC.