A Canal Across Germany
Wednesday, 26th September 2007 by Alex Turnbull
Germany has an extensive canal system, made up in part by the Mittellandkanal (Midland Canal), which helps form an important industrial shipping route from the west of the country, all the way to Poland.
In Minden the Mittellandkanal engages in this verging-on-the-ridiculously-complex aquatic interchange where the canal crosses the Weser River. There's usually a 13 metre height difference between the river and the canal, so locks like this one (ground level photo) are needed to get vessels up and down.
To the east, the Mittellandkanal crosses a small river and a road in Hanover, primarily to pass right by this Volkswagen factory to the north.
Further east at Magdeburg the Rothensee boat lift (ground level photo) was originally intended as a minor connection between the Mittellandkanal and the River Elbe, with an aquaduct and another boat lift forming a connection with the Elbe-Havel Canal.
Due to WWII however, the rest of the project was never completed, and for 60 years the Rothensee lift instead lowered all the aquatic traffic from the West German industrial centres onto the Elbe on their way to West Berlin.
In 2003, a proper connection to the Elbe-Havel Canal was finally completed, putting an end to the traditional 12 km detour. The 918 metre long Magdeburg Water Bridge is the longest aqueduct in Europe, and as you can see in this photo, it's absolutely enormous! 690 metres of the bridge are over land, and the waterway it carries is 34 metres wide and 4.25 metres deep.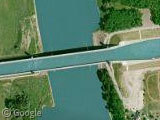 You can read more about the Mittellandkanal, the Rothensee boat lift and the Magdeburg Water Bridge at Wikipedia.
Thanks to Nick and Glenn.