The Casiquiare canal
Thursday, 29th July 2010 by Noel Ballantyne
We've only ever written one other post about Venezuela, so it's about time we took another trip. We'd like to have crafted a post about the Orinoco River, but sadly there isn't enough of it in high resolution to write about… until you get to the Casiquiare canal.
The Casiquiare canal is the largest river on the planet that links two major river systems, and is possibly the best example of river bifurcation to be seen anywhere.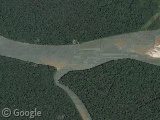 The Orinoco river splits into two rivers at this point. In the picture above the river flow is from the right to left, with the Casiquiare canal in the middle taking approximately ⅓ of the water from the Orinoco and diverting it in a southerly and south easterly direction, until it reaches the Rio Negro near the town of San Carlos.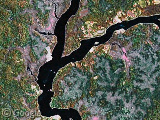 What's so amazing about this? Well, the Rio Negro is a tributary of the Amazon river, so the Casiquiare canal in fact forms a totally unique natural link between two largest river systems in South America.