Centralia, a Ghost Town on Fire Since 1962
Tuesday, 5th February 2008 by Alex Turnbull
In 1962, a landfill site in Centralia, Pennsylvania was set on fire. The rubbish was located in the pit of an abandoned strip mine, and although it was believed to have been extinguished at the time, the fire actually remained burning in the lower depths and eventually spread to an eight-mile seam of coal, where it has now been burning for 46 years.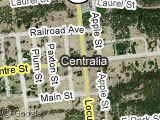 Initial attempts to extinguish the fire were unsuccessful, and it continued to burn throughout the 1960s and 1970s. It soon became apparent that carbon monoxide produced by the blaze was having adverse effects upon the health of the locals, but it wasn't until 1979 that people became aware of the scale of the problem:
a gas-station owner inserted a stick into one of his underground tanks to check the fuel level. When he withdrew it, it seemed hot, so he lowered a thermometer down on a string and was shocked to discover that the temperature of the gasoline in the tank was 77.8°C (172°F).
A couple of years later a 12-year-old boy fell into a 45 metre-deep sinkhole that suddenly opened beneath his feet, and people began to leave this place in earnest. Centralia's population dwindled from over 1,000 residents in 1981 to just 9 in 2007. Today, all buildings within the borough have been condemned (you can see in the satellite shots that there are hardly any left now), and the few that remain lost their ZIP codes back in 2002.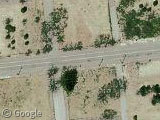 To the south we can see a section of Pennsylvania Route 61 which had to be abandoned when, despite repeated repairs, huge smoking cracks kept appearing in the highway. We can see in Google's imagery that today the road is becoming overgrown with plant-life, and yet the cracks in the earth still belch toxic smoke into the air here every day.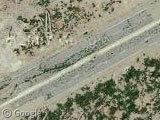 In 1994, this section of Route 61 was permanently closed, and we can easily see the road block which is used to direct traffic along Byrnesville Road instead.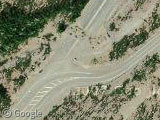 As you read this post the underground fire continues to burn, and it is now estimated to underlie around 160 hectares (400 acres) of land.
Furthermore, it seems that this fire will continue to burn for some time to come; there are no current plans to extinguish it and the eight-mile coal seam constitutes enough fuel to last about 250 years.
Read more about Centralia at Wikipedia, explore a photo gallery of the area, or see some before and after shots of a previously inhabited area.
Thanks to George Dorn, greg, David, Rich Holmes, Sensei Sparky and Lars Christensen.