Alton Towers
Friday, 25th July 2008 by Alex Turnbull
Rounding off our totally unplanned week of obscure towers is... Alton Towers, which is very obscure, being that it's actually a theme park.
Located in the grounds of a former stately home in Staffordshire, England, Alton Towers opened as a theme park in 1980, and in 2007 it attracted 2.4 million visitors - making it the most visited theme park in the UK.
Alton Towers has a good history of fairly ground-breaking roller coasters, and they currently have 8 in total, including Air - the world's first B&M flying roller coaster.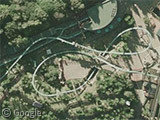 Nemesis was Europe's first inverted roller coaster (Wikipedia).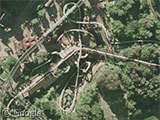 Probably the best known to this day is Oblivion, the world's first vertical drop roller coaster (Wikipedia), which opened in 1998 amidst a huge publicity campaign here in the UK. The coaster features a 55m near-vertical drop into a huge dark hole in the ground (ground-level pic).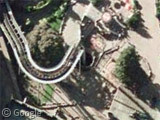 Of course when I personally went to Alton Towers the first time (all the way back in 1986), the biggest name ride was the Corkscrew (Wikipedia). It's the park's oldest coaster, and sadly seems to be reaching the end of its lifespan - it looks likely to be replaced soon. You can clearly see where it gets its name in this image.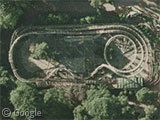 Alton Towers is open March to November, and given that the UK has some spectacular weather right now I imagine this weekend will see the 2 km² (500 acre) grounds full to bursting with people queuing for the 125 different rides.
More about Alton Towers, as ever, at Wikipedia.
Thanks to Andrew Senter and Andrew Checkley.