England's Round Churches
Monday, 10th August 2009 by Ian Brown
Between the 11th and 14th centuries the practice of building "Round Churches" was championed by veterans of the Crusades. These churches are unique in that the original body of the Church is circular, rather than a round tower being attached to a conventionally shaped building. Although many were built across England, today only four survive as functioning Churches1.
Temple Church, located in a courtyard off Fleet Street in London, was constructed by the Knights Templar – a Catholic order with considerable military and economic power during the Crusades.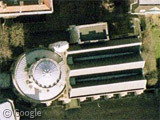 The original Round Church was consecrated in 1185, with the rectangular section known as the Chancel being added about 50 years later. After the Knights Templar were abolished in 1307, the Crown seized the Church and gave it to the Knights Hospitallers, who in turn rented it to two colleges of lawyers. Over time these colleges developed into the Inner and Middle Temples – two Inns of the Court who still use the Church to this day.
The Church is noted for its 9 marble effigies of knights, as well as being a royal peculiar – meaning it is controlled by the monarch rather than the local bishop. It was badly damaged in World War 2, but has been well restored. It was featured in both the book and film versions of The Da Vinci Code.
To the north-west of London, we find the Holy Sepulchre Church in Northampton. Built several decades earlier than Temple Church, its design was heavily inspired by the Church of the same name in Jerusalem.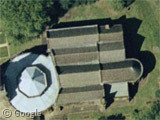 This Church is now bookended by a stone tower to the west, and a more conventionally-shaped building containing a nave and chancel to the east.
Of very similar inspiration – both in name and design – is the Church of the Holy Sepulchre in Cambridge, though typically it is simply called The Round Church.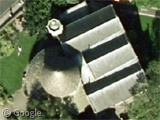 Constructed about 30 years after the Northampton Church, it was modified in the 15th century, while a later restoration of this Church mostly went back to the original Norman design, as seen from Street View.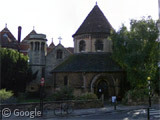 Our final round Church is St John the Baptist, in the village of Little Maplestead, Essex.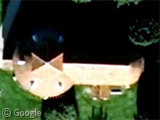 Built by – and still associated with – the Knights Hospitaller, this is the youngest of the four Churches, dating from the mid-14th century, with a major restoration taking place in the mid-19th century. More details at Unlocking Essex.
During my research for this post I found a couple of sites that claimed there were in fact five surviving Churches, but I can find no indication of what the fifth may be. Post a comment if you know! There are also ruins of round Churches in several locations around the country.
---
All four of which have had buildings added on to the original round structure. ↩