Mystery Forest Art
Friday, 27th November 2009 by Chris Hannigan
It's not uncommon to stumble across some interesting sights and shapes when you browse through Google Maps, but there's something special about stumbling across forest clearings that surely must be man-made, but there's no obvious reason for the recognisable shapes!
In southern Poland, outside the town of Bokowno, we find the shape of a north arrow carved out of the nearby woods. It measures close to a massive 525 metres from one end to the other, and appears to be lined-up perfectly in a north direction. There are two sand production facilities nearby, so perhaps the arrow is used by one of these companies?
Outside of Pensaukee, Wisconsin you will find the word FOWL grown into the shoreline of Lake Michigan. Is this perhaps a warning to passing planes that there may be geese and ducks around?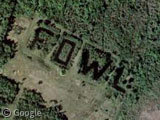 In Oregon's Umpqua National Forest, there appear to be two dice cut into the trees. Could this be tied into a local environmental project? Or perhaps it's something to whet the appetites of air travellers en-route to Las Vegas, which is almost exactly 1,000 km to the south east.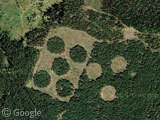 Can anyone shed any light on these bizarre forest formations?
Also see our previous forest art posts on sharks, fonts and very large writing!
Thanks to Gabor Doka, Kendall, Mastboy, Mark, local_gurl, Derek, Denny, Mr. P, and Max.