The Far East (of America): Cape Spear
Thursday, 17th December 2009 by Ian Brown
Far out in the Atlantic Ocean, the easternmost point of North America is Cape Spear, a few kilometres south-east of St John's in Newfoundland.
A scenic drive through moorland and stunning coastal scenery brings visitors to the Cape Spear parking lot, from where footpaths lead to historic sites and cliffs – the latter being somewhat dangerous due to high winds and waves.
Near to the most easterly point of the continent, bunkers and a pair of rusting 25cm guns are stark reminders of WWII, when this was a key location for the defence of St John's harbour.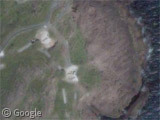 A short distance away stand a pair of lighthouses. The southern structure is the original, and dates to the 1830s. Over the years oil and gas were both used to light its warning lamp, but it was eventually converted to electricity almost 100 years after it was built. It was replaced by the new automated lighthouse in 1955, but the original building today serves as a museum, as it's the oldest surviving lighthouse in Newfoundland.